photo: Bogdan Iordache/ Cultura la dubă
Versiunea în ROMÂNĂ
This story begins in the year 1999, in a Romanian village of 1,300 inhabitants from Bacău county, where the summers are dry and the winters are cold, often struck by blizzards.
On a spring day, on April 9th, Anamaria was born, the first child of a Romanian couple. Like more than 2 million other Romanians, the young parents, driven by the desire to give their daughter a better life, went to work abroad when Anamaria was merely 2 years old.
The little one was brought up by her paternal grandparents in the village of Plopu, near the town of Dărmănești, while her parents ended up in the city of lights, Paris.
Up until she was 6 years old, Anamaria was raised by her grandparents, and before starting school, her parents, who were already integrated and settled in France, took her with them for good.
It is precisely in Paris that we met Ana, who was named one of the revelations of the year by the César Academy in 2021. Today, Anamaria Vartolomei is a well-known and highly regarded actress in France, but also a woman of rare beauty.
"Arriving in France felt like a second birth to me. I couldn't speak the language, I didn't know anything about the local culture, I couldn't understand what was going on around me.

I found myself in a new, different world, and I missed my grandparents. I went through such a shock that I even lost some memories of that time."
Her parents enrolled her in a French school, so the child was forced to adapt. Within a few months she could already hold a conversation in French, which helped her make friends. It was school that brought her closer to acting too. Some extracurricular activities involving poetry recitations or small theatre performances caught her attention, so she signed up for an acting course for children.
Her life changed completely when she came into contact with the world of film. Once, her father, who owns a construction company, had a job at an actress's house.
He told her about Ana's passion for acting and she encouraged them to check out a casting website. That is where they found an advert looking for a girl of about 12 years old, and the film just happened to be directed by a Romanian-born director – Eva Ionesco.
We met Ana recently, one morning at one of her favourite places in Paris – Angelina, a typical Parisian tea and coffee shop founded in 1903 and turned famous over the years.
The writer Marcel Proust and the fashion designer Coco Chanel used to frequent the place, which still retains the elegance that used to define the Paris of yore, with its silver cutlery and teapots as well as the impressionist paintings on the walls.
And, because everything in this world seems to be interconnected, the evening before our meeting, Anamaria Vartolomei had just attended the launch of the Haute Couture collection of Chanel, the house that dresses the beautiful Romanian-born actress for all important events.
"We don't have a contract, our relationship works very naturally. I feel privileged and very lucky. I don't have an obligation not to wear other brands, but in terms of clothing, what more could you possibly wish for other than Chanel? I think they trust me and I hope we will be able to do a project together."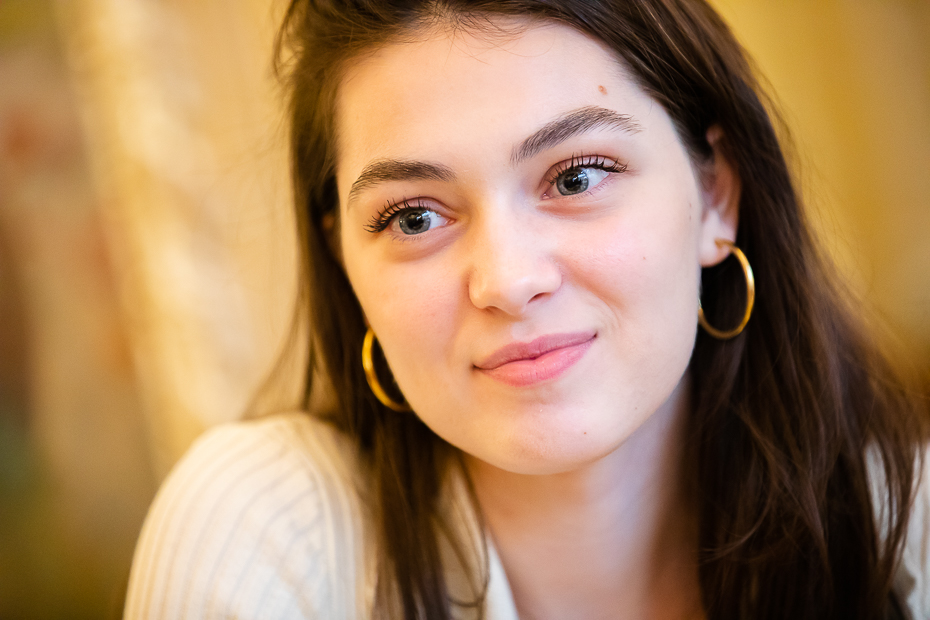 Her relationship with Chanel began when Ana was just 12 years old and coincided with her big screen debut.
Back then, Anamaria Vartolomei was to attend the premiere of My Little Princess, the film directed by Eva Ionesco, telling a story inspired by her very life. As a child, Eva Ionesco was photographed nude by her Romanian-born French mother, Irina Ionesco. At the time, the photos sparked controversy.
My Little Princess featured Anamaria Vartolomei in similar scenes, and the courage and talent she showed were commanded by critics. Ana starred alongside the renowned French actress Isabelle Huppert, and the role earned her a nomination as the most promising young actress at the Lumière Awards in 2012.
"Isabelle Huppert treated me as if I were her child. She is a very accomplished actress, I learnt a lot from her and would like to work with her again."
The film premiered at Cannes.
"Eva Ionesco then took me to various brands and we did several fittings. I thought we had already found an outfit, but Eva said: We have one more – Chanel. So, we went for a fitting at Chanel. My mom came along too. That is how I started collaborating with them and they took me under their wing."
Afterwards, Anamaria caught the attention of both the French film world and the fashion houses. When she was just 14 years old, she was photographed by Karl Lagerfeld himself for a collaboration with Chanel.
And the film offers kept coming, especially because, after Anamaria starred with Isabelle Huppert, the famous actress's agent offered to represent her too.
"I didn't have an agent back then. We have been working together for 10 years now and it is the best thing that could've happened to me. When you work with an agent who's been watching you ever since you were little and sees your development, they really do understand what you want, what you like."
Despite the resounding success she enjoyed as a child of merely 12 years old, at school, Ana had to face the harsh reactions of some teenage peers who were stigmatising her for being Romanian.
"They were saying: Ah, donnez-moi 1 euro, 1 euro. They were pretending to be beggars. Well, if that's what they're like, what am I supposed to do?"
"Or they were saying I lived in a caravan, so they were implying we are all gypsies. This happened when I was 12 or 13, just as I was becoming a teenager. They were mindless kids. My parents taught me not to mind people who badmouth me. At that age, kids can be mean too.
But now, when I go out in the film world and say I come from Romania, I get reactions like: Ah, Romania, Mungiu! Romania is very respected. Many tell me they have filmed in Romania, in Buftea, and that they have enjoyed it a lot."
Anamaria went on to study Acting at Cours Florent, a reputable theatre school in Paris, for 2 years. Afterwards, she finished another theatre course called Les Enfants Terribles.
In the meantime, she appeared in "L'Ideal", directed by Frédéric Beigbeder, "Éternité", where she starred alongside Audrey Tatou, Bérénice Bejo and Mélanie Laurent, and in "La Bonne Epouse", along with Juliette Binoche.
In her most recent film, "L'Evénèment", Ana plays the lead role and recounts the story presented in Annie Ernaux's novel about the author's abortion at a time when abortions were illegal in France, in the 1960s.
Anamaria says she did not choose an easy profession, but rather one that brings her tremendous joy.
"It's a competitive environment, but I feel that after #metoo, my generation started showing more solidarity, we are like sisters, we support each other."
Having passed the Baccalaureate, she was admitted to the Faculty of Modern Letters at the Sorbonne, but dropped out soon after, as her thoughts were wandering back to acting.
"My mom kept nagging me that it would be good to have a degree, so I went for one day and then said I didn't like it and didn't want to go anymore. I think it's very hard to focus on something when you are actually focused on and passionate about something else."
She would rather go to the US and take some acting classes there, hoping that one day she will make contact with Hollywood as well. In fact, the actress she admires most is the American Gena Rowlands.
"She is a phenomenal actress. Ever since watching her, I haven't seen anyone else act as well as she does."
Beyond her work in the world of cinema, like any youngster her age, Ana enjoys going out with friends, listening to music and going to parties. She is excited that she will soon be going with a friend to a concert by American artist Billie Eilish.
"My friends are from my guild, and when we don't have projects we spend a lot of time together. We go out to cafes, museums, galleries, parties.
I listen to all kinds of music, either new or old. My parents used to listen a lot to Sting, Lauryn Hill, and I listen to Beyonce, Rihanna, but I also have a Romanian playlist. Do you want to see it?"
Appearing excited, she looks up the Romanian artists she sometimes listens to on her phone and reads their names out loud:
"This is what I've got: Mihaela Mihai, Mihaela Runceanu, Stela Enache, Mirabela Dauer, Maria Tănase, Dan Spătaru, Monica Anghel, Delia, but Delia when she was still in N&D, Nicu Alifantis, Gheorghe Dinică. Ah, Gheorghe Dinică, what an extraordinary actor he was and what a voice he had! I like him very much.
My mom developed my taste in music. We would always listen to the radio when we were little. And our TV was always on a music channel."
"She sometimes sends me songs that she used to listen to when she was young and I tell her: I already know it! Hahaha. Because I was curious enough to look for Romanian music too."
In fact, her relationship with her family is very strong. At 22, she is still living with her parents in a commune bordering Paris and says she is not planning on moving out until she is 25 or 26.
"When the time comes, I would like to live in the same commune as my parents. The metro line 12 is nearby, I have great connections to Paris. Or I would move to the 5th arrondissement, where the Orthodox Church is. I go there often. Not every Sunday, but as often as I can.
So I would have the church there and that is also the neighborhood of independent cinemas, where you can watch European films and old films."
She wears a necklace with a golden Orthodox cross and is proud to embrace her Romanian roots, which she tries to protect. In the Vartolomei household, in Paris, the family speaks mostly Romanian, except for the little brother, Julian, whom they call Jules. He was born right when Ana arrived in Paris, he is 15 years of age and has been playing football since he was 5.
"He is very talented, I can see him playing on the national team, either for France or Romania, who knows?"
She usually goes to Romania at Christmas or Easter, when she also visits the relatives still living in the region of Moldova. In fact, it is from a great-grandmother that she has inherited her gorgeous blue eyes.
"It is important for us to preserve our roots, our connection with the relatives who are still in Romania. It's only natural that we keep speaking Romanian so that we can communicate with our grandparents, with our relatives."
"I think I am mature enough to understand that these are two different worlds, so I don't go there saying: Gosh, where's my Parisian comfort? No. When I go there, I am happy to see my family, and our grandparents are happy to see us. They are very old now, so we are enjoying our time together as long as they are still alive."
She would like to take her French friends to visit Bucharest or Cluj and create a connection with Romania on a professional level too.
"I liked Bucharest a lot and I can see why it's called Little Paris. I would really like to take my friends there. I wouldn't take them to the village, because there wouldn't be anything for them to do there, that's reserved for family time. In Bucharest or Cluj, though, there is plenty to visit, there are plenty of places we can go out to."
"I want to work in Romania, make films in Romania, work with Romanian directors."
Much like the hearts of millions of Romanians who left their country out of necessity, Ana's heart beats in between the first place she called home, her grandparent's house in the village of Plopu, and life in Paris.
Her career path is not just an example of success, but also a story with the power to tear down barriers and stereotypes about the Romanians who work abroad.
And, most importantly, it gives young people like her the confidence that it is not nationality, but rather hard work, decency and talent that make us stand out in this world of globalization which we are all living in.
"I am both Romanian and French. This is where I see myself, this is where I've built myself, this is where I've settled down, so my life is in France, but my roots are in Romania. I was very intent on keeping my Romanian citizenship as well."
"Last year, when I received the French citizenship, they asked me if I wanted to keep the Romanian one as well, and I said yes, of course.
I could've also got a French name, say, Annemarie, but I am Anamaria, I don't need to change."
***This story is part of the "France Week" series, a Cultura la Dubă project supported by BNP Paribas.